Back to the past of the
Hotel
The complex where the Papigo Towers Mountain Lodge is situated, is not only in harmony with the traditional architecture and landscape of the area but  has also a long history.
More Information
It consists of two buildings, one of which dates back to the early 19th century and is a living monument to the traditional architecture of Zagorohoria and, more generally, to Epirus during the Middle Ages. Its renovation was completed in 2007, after a great effort and dedication of the owners. Together with the second building, which was based on wood and stone, constitute a particularly majestic residential complex in the Pindos .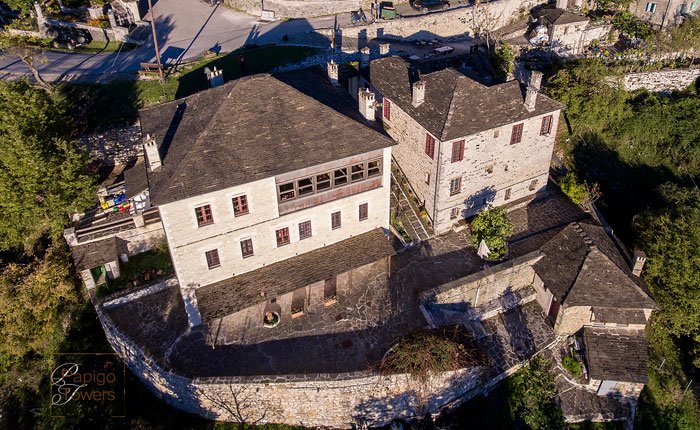 The unique landscape
Zagorohoria are located in a mountainous and extremely inaccessible area of northwest Greece, which has resulted in immigration starting too early here as well as in the rest of Epirus.
Already in the early years of Ottoman domination, mainly male members of the family migrated to seek a better future abroad and settled mainly in the Danubian areas, but also in Vienna, Moscow, Leipzig.
Over the years, and after hard work, most of them became wealthy merchants, who never forgot but instead benefited their homeland.
Combined with the privileges granted by the Ottoman administration during the Middle Ages, the region experienced enormous economic and spiritual well-being, as illustrated by the impressive and elegant human creations, such as the large stone-built bridges and cobbled streets, the schools, churches and majestic mansions, which remain unchanged over time and form the uniqueness of the present landscape.
The Manthitsa's Mansion
The dream of the creation of the Papigo Towers Mountain Lodge was substantiated in a two-storied grandiose mansion, the Manthitsa's mansion, built in 1832 and one of the largest and well-preserved mansions in Papigo.
Passing through the elaborate entrance of the walled courtyard, the mansion is built of local stone, with walls of a meter thick and a roof of decorative slabs. Due to the heavy weight of the stone roof, the floors used wood exclusively for the floors.
The entrance of the house leads to the hallway, the so-called Hagiati, which leads to the neighboring rooms, which were used for the family, with a built-in cupboard, each, Messandra, and in Bimtsa the most impressive room of the house with the stone vault.
The wooden staircase leads from Hagiati at the entrance to the upper floor, on the Krevata between the Ontas and the Mantzato. Mantzato was the main room for the winter months with a fireplace, a table and a living room, the so-called basque. The Ontas have a fireplace with flower paintings, are the most spacious rooms and were used to accommodate guests.
The basement of the house includes cellars and other storage areas. Because of the gray landscape, they used much color inside, such as frescoes with nature, colorful ceilings and rosettes.